Nokia has recently launched its latest smartphone will. Disebuah press conference held in New York, United States. Nokia on September 5 officially announced its first Windows Phone 8 phones that have been previously known as the Nokia Lumia 920.
Specifications Nokia Lumia 920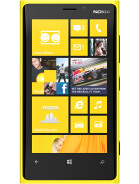 Nokia Lumia 920 has the advantage. One of them is to have a 4.5-inch diagonal screen, dual-core 1.5 GHz Snapdragon S4, NFC features, a camera with a resolution of 8 MP PureView resulting from this camera are very clear and nice. Then capable of recording 1080p video, and will be integrated with the charger without cable (wireless charging). But the details are not yet known to be more related to wireless charger that Nokia's Lumia 920. Only estimation tool charger uses Qi (wireless power standard).
Then, supported also by using the RAM capacity of 1 GB, 32 GB internal memory, 4G LTE connectivity, For that you do not worry, for supplying power smartphones using a battery capacity of 2,000 mAh.
Specifications Nokia Lumia 920
Price Nokia Lumia 920
For the price of the Nokia Lumia 920 we do not obtain information that is not clear in Indonesia. But there are three countries that have earned the price details. All three are Russia, Italy, and Germany.
In Russia, the Nokia Lumia 920 will be priced at 24,990 rubles or about 801 U.S. dollars. If converted into rupiah (U.S. $ 1 = Rp 9533), respectively Lumia 920 has a price of about $ 7.6 million.
In the German state membanderol Nokia Lumia 920 with a slightly higher price of Nokia Lumia in Italy.
Later in Germany, Nokia Lumia 920 has a price of 836 U.S. dollars, or approximately USD 8 million. In Italy, the device is only priced at 711 U.S. dollars, or USD 6.7 million.
But the Nokia Lumia 920 has not been entered in the Indonesian market, but if we have to get more information about the Nokia Lumia 920, we will provide information as soon as possible for you.